Thank you for downloading the report…
Here is an offer for you…
Are you a serious person wanting to know NLP ( Neuro Linguistic Program ) by doing NLP…?
Are you curious enough not just to know the concepts of NLP ,but apply them immediately on yourself and others?
Are you thirsting enough to take concrete steps to show yourself that you are serious about personal and professional growth and development?
Are you committed enough to invest two days of time,energy and money to really learn and internalise NLP for Success and Happiness?
Then here is another opportunity to learn NLP directly, Experientially from the Master himself…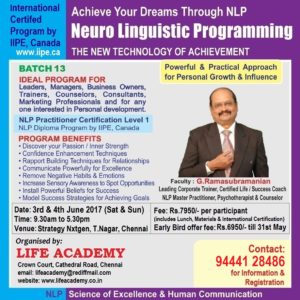 This is happening this week end on June 3rd and 4th  2017…
Do ACT NOW and you can avail the early bird offer also…
You can avail the early bird offer upto May 31
For Availing the Early Bird offer use Coupon Code : Earlybird
You can make your payment here at :
Again if you want to know how NLP can really help you, visit
www.ramsnlp.com
to download a free report " 5 Ways How NLP can Help You "